Optimize, manage, and run your business with unprecedented simplicity and insight.
Simple.
Streamline the entire transaction, from lead, to close, to your next payday. With everything in one place, you'll see your road ahead with unprecedented clarity.
Smarter.
Combine your expertise with the Keller Cloud's massive databank to win more business and wow clients with real-time neighborhood and address-level insights.
More Human.
Save time and money by automating the background tasks that keep you from building relationships and earning more business.
What can you do in five minutes? With Designs, anything. Quickly create beautiful, customized digital assets with real-time market data for email, social, print and beyond.
Leverage a massive, diverse library of ready-to-go templates or create your own. Either way, Designs helps you differentiate your business and create marketing materials that stand apart. No design experience required.
Watch Video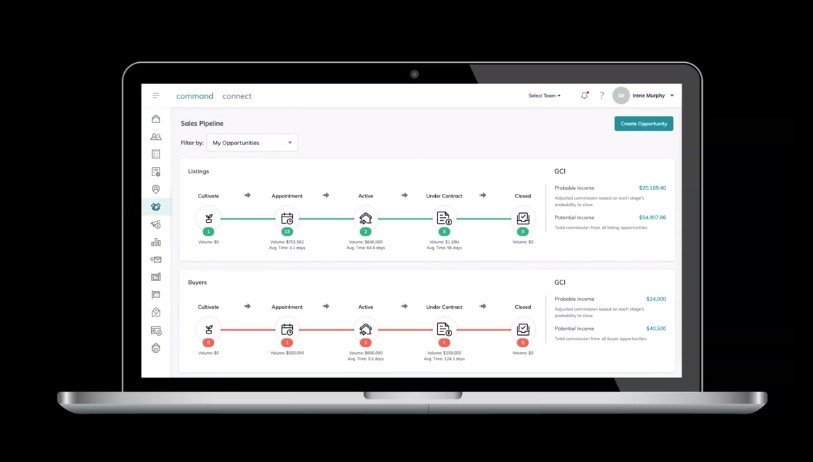 Manage Your Entire Book of Business in a Single Dashboard
Focus on your client relationships and dollar-productive activities instead of tedious paperwork and toggling between spreadsheets. Opportunities allows you to see appointments, listings, contracts, closed deals and projected revenue in one place and easily drag and drop deals between stages.
"Command offers a simple way for agents to have more human conversations with their database, not worrying about IDXs and MLSs."
Focus on What You Do Best. Automate the Rest.
Streamline your day-to-day by creating automated, customized workflows: simple decision trees that trigger email, texts, or reminders for any task you can think of. With SmartPlans, you can put the busy work on autopilot and free your time to earn even more business.
Together Everyone Achieves More
Command is built for teams. From instantly assigning leads to your rock-star buyer's agent to squaring away the details on a contract with your transaction coordinator, Command is equipped with everything you need to communicate.